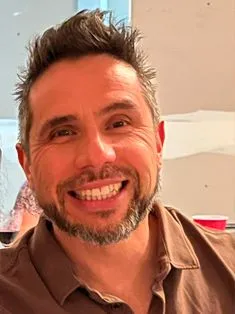 Calvin Spear is an Occupational Therapist who has over 20 years of experience. After working as a Radiologic Technologist in the Army for 4 years, Calvin continued his education at Spalding University in Louisville. After graduating with a degree in Occupational Therapy, he worked locally and nationally as an OT in the Industrial Rehab and manual therapy settings. In 2017 he started Spear Rehab, LLC in order to provide one-on-one treatment options for his clients.

Calvin is trained in various forms of manual therapy (trigger point, positional release, myofascial release, etc.), with certifications in instrument-assisted soft-tissue mobilization (IASTM), dry needling, cupping and Kinesiotaping.

He has been married to his wife, Robyn, for almost 29 years and has 2 daughters, Maria and Erika, who attended South Oldham schools. Calvin has lived in Crestwood for approximately 18 years. When not working in his office or at the hospital (where he assists in cardiac electrophysiology studies), Calvin likes to spend his off time doing mini-weekend getaways or food excursions with his "Family of Foodies!"